There is a large number of people who dont know the difference between a Chair mat and a Rug. They even thought that both of them are the same. But it is not true as both have different features, prices, size pros, and cons and are best for different purposes.
So that we are going to tell Chair mat Vs Rug difference. The Chair mat is small and cheaper in price than the rug. The mats are also better in saving the floor from scratches and damage from the chair. Whereas rugs are easy to move from their place and are larger in size and cover more area than a chair mat. 
Dont worry below we are going to do Chair mat Vs Rug and will understand the difference between them in detail. So read the blog till the end. 
What is Chair Mat?
The chair mats are a type of floor covering that is often placed under the chair. They originated in the second half of the 19th century when the factory textile was booming.
The floor mats are used to place under the chair so that they can protect the floor from getting scratches from the chair casters.
The Chair mats are made from a variety of materials like glass, PVC, fabric, plastic, and rubber. And their durability, grip, softness, and price depends on, what material they are made up of.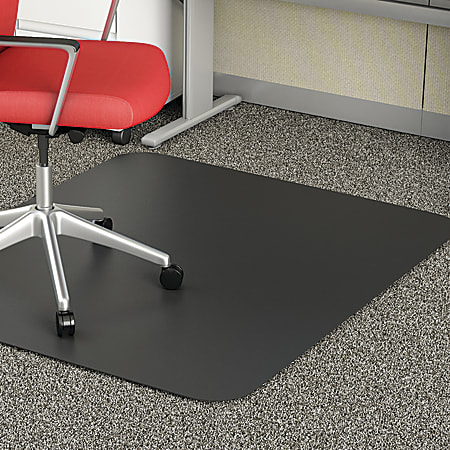 The floor mats come in different sizes and shapes. These Chair mats are made up of both hardwood and carpet flooring.
That is why you should buy a mat that is suitable for your flooring. And they have layers that make the non slip, non-scratching, non-fading, and non-toxic. Generally, chair mats are easy to clean and maintain.
Some company also produces mats that have cool looks and designs over them that increases the look of a room. Rather than chair mats, there are also other types of mats like-
Doormats
Baking mats
Tablemats
Anti-fatigue mats
Cleanroom mats
Exercise mats
Car mats
Pros of chair mat
The floor mat protects the floor from getting damaged while moving the chair around the room. When using them you dont need to worry about scratches. ( Also Read Do Office Chairs Ruin Carpet? Blog )
The chair mat makes the movement of the chair easy and fast.
The floor mats reduce the sound of rolling the casters. 
They Increase User Safety by preventing the chair from falling.
They increase the look of the office room.
Ensures the chair can roll smoothly so you won't have sudden pressure on your back and butts.
The chair mats provide a better grip on the chair.
Cons of chair mat
The chair mats are not big in size which is why you will have to buy multiple floor mats to cover your room if you want to roll chairs freely in your room. 
You need to buy different chair mats for different floor types.
When a rolling chair suddenly drops from the Chair Mat to the ground then it can cause damage to the floor. 
What is a Rug?
The rug is a type of carpet that is mostly made up of fabric. The history of the rug is very old than the chair mat.
Like chair mats, the rig also comes in different sizes and looks. Rugs are small in size than the carpet but are much bug than the chair mats.
Rugs are not specially made of saving the from scratches and they are not attached to the floor which is why they can be easily moved from their place. This is why they provide less grip than the chair mat.
In the market, you will find both types of rugs which are- Hand-made Rugs and Machine-made Rugs. Just like this, they are also good for 2 purposes which are in decorating and protecting the floor.
Their charming and amazing design makes them best for decorating rooms and houses. Rugs are made up of both synthetic material and natural material.
The synthetic materials that are commonly used in the rug are polypropylene and nylon, and the natural material used are wool, sisal, jute, and cotton.
The rug is easy to clean and you can wash them with water to clean them.
However dry cleaning can also be used to remove dust particles from them. Before using any method for cleaning make sure to read the label carefully to see the cleaning instructions. Or you may end up damaging them.
Pros of Rug
The rug comes in many sizes and they cover large areas of the room easily.
They look cool and take a look at a room at another level.
The rugs are easy to place ad remove so you can place and remove them easily.
Rugs are easy to clean and some rugs even can be machine washed which makes them very easy to maintain.
They can be used on both hardwood and carpet flooring.
They are very good at reducing the sound of a moving chair or any other stuff.
They are very durable and last for years that is why you won't have to buy another for a long time.
Cons of Rug
The rugs are not waterproof so if you drop any drink or any type of food on the rug then you need to clean it right away as it is hard to remove the smell from the rug.
The rug is very small in size as compared to the carpet.
As the rigs are made up of fabric, cotton, etc material they get catch fire easily so make sure to take flammable material away from them.
As the rugs are not attached to the floor, which is why their corners can get stuck to casters easily which can also make your chair fall.
Chair mat Vs Rug- Difference Between These Two
Size
The chair Mats are usually small than the rug. That is why their floor covering area is small as compared to the rug.
It is mostly as the chair mats are made for a specific purse which is to prevent the chair casters from damaging the floor whereas mug is made for multi-purposes.
Usage Purpose
The Chair mats are made for specif multiples whereas mugs are made for multiple purposes like giving a cool look to the room, protecting the legs and floor, etc.
Shapes
The rugs come in tons of sizes like rectangular, round, and oval whereas chair mats mostly come in rectangle and round shapes. Lower there is a small percentage of the company that also makes chair mats in the square.
Cleaning
The chair mats are easy to clean as compared to rugs but they require more maintenance as they look bad when they are even a bit dirty. So you need to clean them regularly whereas you dont need to clean your rugs for weeks or even months in some cases.
Price
The rugs are more expensive than the chair mat. A good mat can be bought for 200 dollars whereas you need to spend more on rugs.
The reason for the high price of rugs is simply due to using of natural and synthetic materials like cotton and fabric that are much more expensive than PVC, rubber, and plastic that are used to make chair mats.
Installation and Removal
Both mats and rugs are easy to install and remove. Both are lightweight which is why you won't have any problem removing both of them from your floor.
Protection to the floor
No doubt that both rug and chair mats provide protection to the floor from scratches and damage. But in it, the chair mat performers much better than the rugs. It's because they are specially made for this purpose.
Should I replace My Chair mat with A Rug?
The chair mat is used to protect the floor from the scratches that it can receive from the casters and leg. As I mention that they are better than rugs when it comes to protecting the floor.
Your floor can get scratches and damage when you use a chair over the rug. That is why if you want to replace your mat with a rug in your office or home whereas use your chair then it is a bad idea. 
Chair mat is best to be used in both home and office and you should not replace it with a rug. The Rug is best for people who don't use chairs in their room and just want to increase their room look.
So overall, you should not replace the Chair mat with A Rug if you dont want to see scratches on your floor. 
Why you should get floor covering?
It's because of many pros of getting a floor covering. We will tell you these pros one by one-
They save Floor
No matter which one you use on your room-rug or mat both of them are good in saving the floor from various damages that it can get from the chairs, desk, and other stuff. After installing them in your room you can move your chair in your room without any problem.
Increases Room Look 
Both mat and rugs have a cool look and you will see many attractive designs over them. This design makes the room look better. And it also creates positivity in the room.
And the user in the room enjoys their work even more which also result in an increase in productivity.
Conclusion
So overall this was Chair mat Vs Rug difference. So no doubt both have pros and cons but they are best for a different purposes. And the chair mat is best to use in the office.
To understands the difference between these two things you need to read the blog till the end. As by this you will also be able to know which one of these you should buy. So hope you find this Blog useful and dont forget to share it with your friends.